The REMT must be Maccabi football's longest running annual memorial match, having been held each season between 1984 and 2009 inclusive, when the match reached its Silver Anniversary.

Ralph Epstein
was the manager of Bushey United FC in the M(S)FL between September 1976 and August 1984 when he sadly passed away at the age of 48 years old. He was also a serving officer on the League's Management Committee as Treasurer.
Bushey United and Temple Fortune entered the M(S)FL at the same time, running parallel existances for several years from 1976 onwards; they even played one another in the very first league fixture! Such was the closeness between the two teams, that after Ralph's untimely death, nephew Bushey's Jeff Epstein and Nigel Kyte of Temple Fortune agreed to stage the inaugural REMT, which was held in December 1984 at Bethune Park.
The 25 years of staging the REMT series have brought many memorable matches and we dedictate a few pages on this website to reflect back upon a quarter of a century's worth of keen competition and rivalry, which we hope you enjoy. The REMT has run its course, finishing appropriately on its Silver Anniversary in May 2009.
Thank you to everyone who played a part in making the REMT survive over so many years. A truly remarkable series earnestly played in tribute to a fine gentleman who has been missed...
Ralph Epstein
.
REMT MATCHES:

25

BUSHEY GOALS:

73

BUSHEY WON:

7

FORTUNE GOALS:

94

FORTUNE WON:

13

BUSHEY BEST WIN:

4–1 (1990/91)

DRAWS:

5

FORTUNE BEST WIN:

12–2 (1998/99)

ASTROTURF PITCHES:

10

TOP SCORERS:

22 (S.Feiger, Fortune)

GRASS PITCHES:

9

10 (S.Levy, Fortune)

3G ASTRO PITCHES:

6

8 (R.Wilton, Bushey)

LOWEST SCORE:

1–1 (1994/95)

CLOSEST WIN:

7–6 (Fortune, 1985/86)
REMT25: BUSHEY FINALLY CAPTURE THE TROPHY FOR THE FIRST TIME SINCE 2002
Bushey Old Boy
s won the Silver Anniversary REMT with a well-deserved victory against their old adversaries Temple Fortune Old Boys on the 3G at Thomas Parmiters Sports Centre, Garston. It was the 25th and last match officially arranged by TFFC. Although the final score was a close 3-2, Bushey outplayed their opponents and had it not been for the excellence of Fortune goalkeeper Serge Weinberger, the newly-crowned Old Boys 'B' XI Player of the Year, the margin of success would have been considerably more.
Played in a mixture of rain and sunshine, the match was well attended by some 'old timers' who had graced the occasion for many years, such as Jonathan Davidoff, Tony Espinoza, Phil Goodmaker, Maurice Martin, Bryan Silver and Keith Summers. And also present was Laura Epstein, Ralph's daughter, who was there to watch her first REMT match for many years. The match was played with the customary good sportsmanship and the only incident of any concern was a nasty fall for Jonathan Dubiner which left him heavily winded early on. Jonathan recovered to walk off the pitch but did not return.
Bushey, wearing bibs due to a colour clash, were faster out of the blocks and scored after just two minutes, when
Greg Bradman
swept home an Alan Davidoff cross. Within minutes, Davidoff had an effort brilliantly kicked off the line by Lol Lambert and Serge Weinberger then made a tremendous save from Darren Coone. In truth, Bushey could have been out of sight after the first 15 minutes. Sluggish Temple Fortune were just not settling and deservedly fell 2-0 behind on 21 minutes,
Darren Coone
being put through and firing past Weinberger inside the post. Then Alan Davidoff blazed over the bar with a gaping goal and Coone had another effort saved.
Against the run of play, with hardly a chance made in their favour, Fortune reduced the arrears after 34 minutes when
Robert Botkai
latched onto a hefty clearance to round Phil Arnold and neatly score. But it was still Bushey dominating the rest of the half and they must have been frustrated to only take a 2-1 lead into the interval. The half-time break did little to stir Fortune and they continued to sloppily give the ball away. As the match wore on, it was literally Weinberger v Bushey as he made a series of brilliant one-on-one saves. Greg Bradman (twice), Darren Coone, and Steve Lewis all had chances to increase the lead but Weinberger made superb diving saves each time.
There was nothing he could do, however, with
Murray Epstein
's thumping header in off the crossbar from a corner on 63 minutes. It was 25 years since Murray had scored a hat-trick in the inaugural REMT, so perhaps it was fitting that his goal proved to be the winner at the end. The chances kept coming, and but for Serge's agility and some very close offside decisions, Bushey may well have reached double figures! For all Bushey's dominance, Fortune plugged away and scored a second goal after 82 minutes when
Yali Mamouri
netted competently after a rare move of fluidity. Seemingly revitalised by the surprise scoreline, Fortune enjoyed a brief spell of pressure for the first time but could not break through again – and didn't really deserve it anyway.
At the other end, Weinberger again excelled, saving from Steve Lewis but Bushey held on to record a memorable first REMT win since 2002. Laura Epstein presented the trophy to a jubilant Steve Lewis, and Jeff Epstein and Steve Feiger exchanged pleasantries on behalf of each team. Laura received a selection of REMT programmes from Temple Fortune FC Chairman Nigel Kyte, who said about the occasion afterwards: "Congratulations to Bushey Old Boys who fully deserved to win the 25th Ralph Epstein Memorial Trophy match. About time too, I might add! I was delighted to see several former participants watching who had played in quite a few REMT games, as well as Laura Epstein... how fitting it was to have her present at the event's Silver Anniversary."
Teams: Bushey Old Boys – Phil Arnold, Robert Segal, Gary Burns, Les Broude, Stephen Brower, Jonathan Dubiner, Alan Davidoff, Malcolm Newman, Jeremy Landau, Greg Bradman, Murray Epstein. Subs: Darren Coone, Steven Lewis, Mark Shine. Temple Fortune Old Boys – Serge Weinberger, David Goldberg, Phil Friend, Allon Schick-Maier, Laurence Lambert, Philip Bloomberg, James Ryan, Jeremy Fess, Steve Feiger, Phil Small, Robert Botkai. Subs: Yali Mamouri, Simon Mattes. Referee: Nigel Kyte (London FA). Player of the Match: Serge Weinberger (Temple Fortune Old Boys).
It's a family affair! Laura Epstein holds the REMT, together with cousins Murray Epstein (left) and his brother Jeff, following Bushey's deserved victory on Sunday 17th May 2009.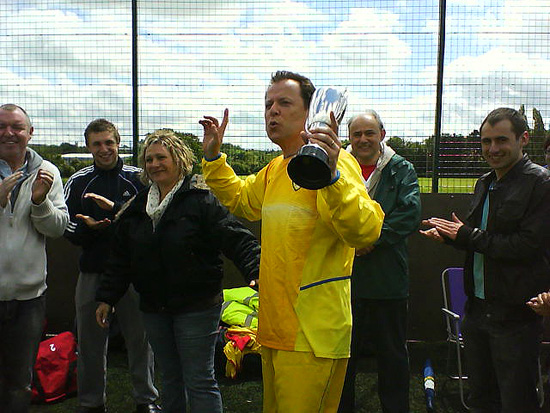 Finally it's ours! Bushey Old Boys captain Steven Lewis lifts the Ralph Epstein Memorial Trophy having endured several fruitless attempts to take it off Temple Fortune.
We are the champions! The Bushey team celebrate their 3-2 success in REMT25, their first against Temple Fortune since 2002. From left to right, back row: Stephen Brower, Alan Davidoff, Phil Arnold, Mark Shine, Jeremy 'Lunn' Landau, Malcolm Newman, Greg Bradman, Darren Coone. Fromt row: Robert Segal, skipper Steven Lewis, Les Broude, Murray Epstein and Gary Burns.