MACCABI GB LIFETIME ACHIEVEMENT IN SPORT AWARD, 2003

Temple Fortune FC Chairman Nigel Kyte was the 2003 recipient of the Maccabi GB Lifetime Achievement in Sport Award (sponsored by JNF).

The award, for services to TFFC and Maccabi refereeing over 28 years, was presented at the Maccabi GB Sports Awards for 2003 held in Finchley in February 2004. Other awards on the nights included the senior and junior Sportsperson of the Year and various team awards.

Nigel attended the ceremony together with General Secretary Lynne,Treasurer Peter Kyte and Admin Secretary Milke Shorvon. Lynne and Nigel's daughter Stephanie also accompanied them. The address for the Lifetime Achievement Award was given by M(S)FL Chairman David Wolff. Nigel said after receiving his award: "I was extremely chuffed to receive this award on behalf of the Temple Fortune Football Club. I see it as an important achievement of recognition by Maccabi GB of the Club's longevity rather than a personal accolade."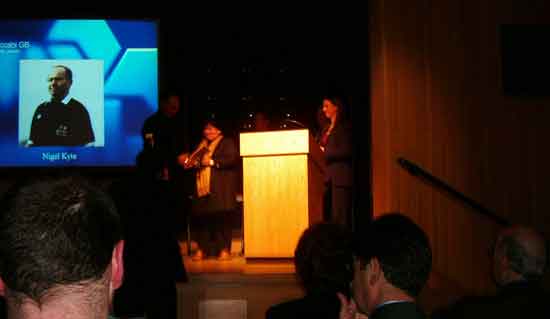 Above: Before a full audience of top Maccabi dignitories and officials at the Pentville Suite in Finchley, Nigel Kyte is about to be presented with the Maccabi GB Lifetime Achievement in Sport Award. He later was given a framed certificate sponsored by JNF.


Two more shots from the Sports Awards evening. Below, the awards in more detail.g