SEASON 1998/99
The Second Team's first piece of silverware – the RSS&TMT!
The what? The Ron Saunders Sportsmanship & Turnout Memorial Trophy, that's what! Gloriously won by Temple Fortune's Second XI in 1999!
Temple Fortune's Second Team reformed in 1997 after an absence of six years, having folded in 1991. The Seconds entered Division Five of the Maccabi (Southern) Football League in 1998 and celebrated that first season back by gaining promotion to Division Four. But equally impressive was the fact that the team also won the
Ron Saunders Sportsmanship & Turnout Memorial Trophy
, which is the League's most prestigious award. The Trophy is shown above alongside a Second XI shirt displaying a special commemorative emblem marking the Club's 30 years in existance.
The Ron Saunders S&TMT is presented to the team gaining the highest average of marks allocated by referees on a weekly basis for sportsmanship and playing kit turnout. Temple Fortune Second XI topped the table out of 65 competing teams, a marvellous achievement which was very proudly received by this Club.
At the M(S)FL Awards Evening in June 1999, Peter Kyte collected the Trophy from the widow of Ron Saunders. As a permanent record of those involved in the Second Team's first ever League trophy success, we reproduce the players' images (below the team photo) extracted from a colourful framed memento which was produced by the Club to commemorate the event in 1999.
Ron Saunders Sportsmanship & Turnout
Memorial Trophy, Season 1998/99

Of the 65 M(S)FL teams which competed during the 1998/99 season, below are listed the top six positions, showing the average mark out of 15 from all league and cup matches.

POS.

TEAM

DIVISION

AVERAGE

1st

Temple Fortune 2nd XI

Five

13.32

2nd

Sporting Hendon

Four

13.25

3rd

Sutlu Borek

Five

13.08

4th

South Mancunians

Three

13.06

5th

Oxford North London

Five

13.00

6th

PMG Walford

Four

12.68
TEMPLE FORTUNE FC SECOND TEAM, SEASON 1998/99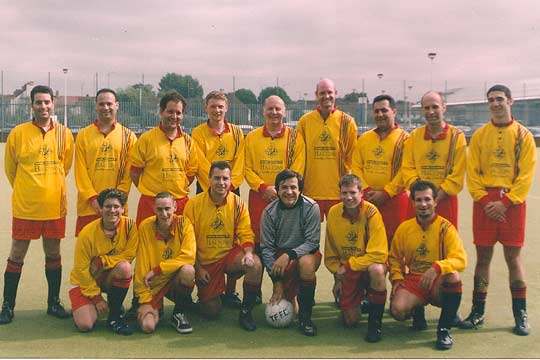 From left to right, back row: Nik Harta, Andy Montlake, Bryan Silver, Ollie Martin, Maurice Martin, Steve Feiger, Jonathan Davidoff and David Allen. Front row: Simon Hill, James Woolf, David Summer, Phil Arnold, Robert Botkai and David Shannon.
Other squad members were Jeremy Fess (12 appearances), Stuart Rothstein (7 apps +1 sub), Steve Feiger (5 apps), Ashley Fine (5 apps), Maurice Martin (3 apps + 2 sub), James Woolf (2 apps +1 sub), Oliver Martin (2 apps), Russell Vroobel (2 apps), Simon Hill (1 app +1 sub), David Allen (1 app), Spencer Brookner (1 app), Alan Harounoff (1 app), Graham Meyer (1 app), Mike Nahon (1 app), Jamie Simpson (1 app), Paul Squires (1 app), Allon Schick-Maier (1 app), Jeff Wolfin (1 app), Danny Anderson (2 sub), James Shindler (1 sub).
SEASON 1981-82 –
Temple Fortune's best 'cup run' to the Peter Morrison Trophy Final
SEASON 1985-86 –
Temple Fortune's M(S)FL Division Two championship success