SEASON 2010/11
Another Second Division Championship success 25 years on!

Temple Fortune's First Team brought home the MSFL Second Division championship twenty-five years after the Club last did it!

What a way to celebrate such a marvellous Silver Anniversary! And now the current team will go into the Club archives for their own richly-deserved achievement. A hearty congratulations to Andy Souber, Lee Fegan and every single First Team player who played his part in this historic accomplishment. One aspect of the fantastic First Team email banter going on all season was Paul Walker's frequent reminder of the First Team's success-to-be; as a taste of what was to come, he has summed up the whole season's aspirations with one no-nonsense word: WINNERS!!!!

Below follows a match-by-match look at how Temple Fortune won the MSFL Second Division title. Match reports were taken from The Fortune News issued throughtout the 2010/11 season. For an overall summary of the season, see the 'Best Of Fortune' article.


Match 1: v NORSTAR (H) WON 3-1
Played 1, won 1, drawn 0, lost 0, points 3
With Adam Glekin and Roni Stone unavailable, in came Gideon Joffe who was more than competent in goal for the First Team as their home league campaign opened at Hatch End Playing Fields. The League's leading goalscorer last season, ROB BENSON scored twice to add to SCOTT SHINDLER's opener in the First Team's very good 3-1 win against highly-fancied NORSTAR 'A', who managed a late lone reply.

Said manager Andy Souber: "I'm delighted with this win. We seemed to play well in spells and it wasn't one of our better performances overall. But we cannot be faulted for effort and deserved the points."


Match 2: v L'EQUIPE (A) WON 9-4
Played 2, won 2, drawn 0, lost 0, points 6
The Firsts played promoted side L'EQUIPE at the King George V Playing Fields in Barnet Lane, winning 9-4. Wearing their brand new yellow and red kit, the Firsts started sloppily and went a goal down within a minute. Then the two teams exchanged a glut of goals with Fortune leading 4-3 at the break. A few harsh words from Andy Souber during the interval seemed to wake the visitors up and they went on to dominate thereafter, adding five more goals to L'Equipe's solitary reply. ROB BENSON scored a hat-trick to take his tally to 5 league goals in 2 fixtures – and 13 goals for the season in total, whilst young DAVE GANCE hit two on his League debut. Midfielder MICHAEL GOLDBERG also netted a couple, with JON FISHER and a late SCOTT SHINDLER penalty competing the scoring.

Said Mike Shorvon, First Team Admin Secretary: "The result was very satisfying. However, without trying to be a perfectionist, I thought that conceding 4 goals was very disappointing. We cannot afford to defend like that against the better teams. In the second half we were vastly superior and should have won by more."


Match 3: v BRIXTON OLD BOYS (A) WON 4-3
Played 3, won 3, drawn 0, lost 0, points 9
Two goals from Scott Shindler helped Fortune come from 3-1 down to beat an ill-disciplined Brixton team who finished with nine men. Fortune started off extremely complacement and everything mangers Andy Souber and Lee Fegan discussed went out the window. Brixton took an early lead after sloppy marking from a corner, and then really should have been 3 or 4 up after 30 minutes, with Roni Stone coming to the rescue at least twice when they were through on goal. Fortune then settled and got a goal of our own, PAUL WALKER heading in a Gilbery long throw. Brixton then lost their heads and had a player sent-off for kicking out off the ball. Fortune then went back to self-destruct mode and gave away two really stupid goals early in the second half. However, Fortune fought back tremendously well after going to 4-4-2 and got back in it when WALKER somehow got to another Gilberry throw and managed to head the ball back across goal for David Gance to head in. Goldberg then began running things and made his way into the box before being fouled, with SCOTT SHINDLER smashing the penalty high into the net. Moments later from a Goldberg corner, SHINDLER rose above everyone and powered a bullet header into the far corner to complete a great comeback. Brixton again lost their heads late on and went down to nine men after a bit too much mouth towards the referee.

Said manager Andy Souber: "We fought and fought and somehow got the result, helped by their indiscipline. Not pleased with the goals we gifted them but the spirit of this team more than made up for it. A very good win!"


Match 4: v HENDON UNITED 'B' (A) WON 8-1
Played 4, won 4, drawn 0, lost 0, points 12
The First Team played an early season top of the table clash against fellow unbeaten side HENDON UNITED SPORTS 'B' at West Hendon Playing Fields and impressively defeated them by 8-1. Hendon, who came down from the MSFL Premier Division last season to controversially take a place in Division 2 rather than the section above, are one of the favourites to challenge for promotion, but on the day they were torn to pieces by a rampant Temple Fortune team putting in a brilliant performance. With Dave Gance playing out of his skin, the goals flowed as the Yellows ripped the home side apart. ROB BENSON scored four more goals, GANCE added two himself, whilst MATT GILBERY and PAUL WALKER completed the rout. United scored their consolation goal when training 7-0.

Mike Shorvon jubiantly said: "At times the football we played was abolsutely mouthwatering. However, nothing is ever won in October so the difficult thing we have to do is maintain this momentum and continue to play this brand of football wekk in, week out. This was one of our best performances of the last few years. Gancy was absolutely phenomenal but then, everyone played very well."


Match 5: v NORSTAR (A) LOST 1-3
Played 5, won 4, drawn 0, lost 1, points 12
The First Team's fantastic start to the 2010/11 season – a record-equalling ten straight wins in all matches – was finally blighted thanks to a 3-1 defeat against NORSTAR. The home side avenged the earlier defeat by the same score. Keen to make amends for the loss at Hatch End Playing Fields on Sunday 12 September, Norstar took an early lead and added a second during the first period, both goals coming on the break. However, Fortune certainly made good chances but the home goalkeeper had an exceptional match. Another breakaway led to a third as the Firsts pushed forward unsuccessfully to reduce the deficit. The Yellows only had a penalty converted by SCOTT SHINDLER to show for their efforts.

Said Mike Shorvon: "Norstar played to their strengths and defended superbly. Their goalkeeper played like a man possessed! We did everything but score though I think our cutting edge was lacking today. But hats off to Norstar – they had a game plan, rode their luck at times and got the result. It's very disappointing but it's a wake up call for us."


Match 6: v L'EQUIPE (H) WON 4-1
Played 6, won 5, drawn 0, lost 1, points 15
The First Team returned to league football after a two-week break of cup ties to secure a welcomed 4-1 victory against L'Equipe at Hatch End Playing Fields. After a very disorganised start – the playing kit arrived late which did not go down too well – Fortune had to overcome a 0-1 deficit to stay on level terms at the interval, thanks to defender SCOTT SHINDLER's equaliser. After the break JON FISHER, First XI leading scorer two seasons ago, showed his goalscoring prowess with a fine hat-trick to give Fortune the points.

Commented Andy Souber afterwards: "We were not at our best and started poorly. We were 1-0 down and Scott equalised after a nice build-up towards the end of the first half. The second half was one way traffic and I can't recall Roni having a save to make. Jon Fisher scored a tremendous goal. He received the ball and curled a first time shot from outside the area into the top corner of the net."


Match 7: v FC TEAM 'B' (A) WON 6-2
Played 7, won 6, drawn 0, lost 1, points 18
The First Team, wearing their green and white striped 'change' kit, beat FC TEAM B by 6-2. Always the better team, they made heavy work of putting FC Team to the sword, and had two unlikely scorers each grabbing a brace. DANIEL NATOFF and DANIEL WOOLFE hit four of the six goals, RICHARD COOPER and leading scorer ROB BENSON netting the other two. It was Rob's 27th goal in all matches this season, 19 coming in league and cup fixtures.

Mike Shorvon said about the match: "Although I was mainly watching the Seconds play, from what I saw of the First Team game, we should have won by far more. We could have scored fifteen but made heavy weather of it. Still, another two points which is pleasing."



MID-SEASON REPORT (IN THE NEWSLETTER DATED 27 DECEMBER 2010)
"The Club was buzzing with optimism back in August that the FIRST TEAM would have a very good season and the mid-term report must be 'so far, so good'. In came the experienced Scott Shindler, who enjoyed considerable success with North West Neasden. The exciting Michael Goldberg joined from Camden Park and Delap-alike Matt Gilbery has added further strength to the defence. Young David Gance's skill has brought extra dimension upfront. Sadly the loss to long-term injury of Ben Isaacs was a big blow but the continuing goalscoring talents of Rob Benson (19 league and cup goals already this season) have ensured that the team have not fallen short in that crucial department.
Most regulars from last season stayed on to create a strong squad full of encouraging promise. This was reflected by 10 wins in succession at the start of the season, equalling a record set in 1985. In the league, some great results have the First Team, kitted out in a bright new yellow and red strip, holding second place in Division Two with 6 victories from 7 games so far, 7 points behind leaders Norstar with 4 fixtures in hand. The team are behind on their schedule, having played only 7 matches from the reduced programme – now 16 fixtures following Montana's withdrawal recently. Worryingly, only 2 home league games have been fulfilled but we stay optimistic that the remaining 6 can be completed at Hatch End before the permits finish in early April (weather permitting!)
The 8-1 win against Hendon United B stands out as the exceptional league performance – with the 4-3 win at Brixton follows close behind – but beating Norstar 3-1 has to be viewed as an excellent result too judging by which teams tops the division. The only loss so far in the league was a reversal against the same team by the same score. There are some very hard challenges ahead – Brixton, Faithfold an Woodford will all provide stern examination of this Fortune team's capabilities. But with the players available, Lee Fegan and Andy Souber will keep the team focused and a top two finish is certainly within their grasp.
The cups provided a welcomed distraction and beating Premier Division Hendon United has been one of this season's overall MSFL shocks, an outstanding victory showing what this team can achieve collectlvely at their best. North London Raiders and North West Neasden B, from the MSFL's top flight too, were both given close games, evidence that this current Temple Fortune team should be gracing a higher division at the very least.
The end of April marks 25 years since the First XI won the same Second Division championship – could a repeat be a realistic objective? Time will tell but as we have said, it's certainly a case of so far, so good!"


Match 8: v WOODFORD WANDERERS (H) WON 3-2
Played 8, won 7, drawn 0, lost 1, points 21
The First Team overcame an aggressive and thoroughly unsporting WOODFORD WANDERERS team by 3-2 at Hatch End Playing Fields to record a very good victory in the MSFL Second Division. Fortune were by far the stronger team and deservedly went into the half-time break 2-0 ahead. A missed penalty by Scott Shindler would have made Woodford's deficit even larger. The visitors had a player sent off for pushing the referee which didn't help their cause. The Firsts added a third goal after the break but lapses towards the end allowed Wanderers to pull back two goals. Sadly, the match was not played in the best of spirits with Woodford's notorious indiscipline rearing its ugly head again, culminating in an ugly mass brawl near the end. But the Firsts held out for a very good win and another 3 points against one of the division's title hopefuls. Fortune's goals came from DAVE GANCE and MICHAEL GOLDBERG (his first goal since September), plus an own goal.

Said Andy Souber: "A great win and good to get the New Year off to a winning start. Realistically we should have been five or six up. We seemed to lack energy towards the end and made it much harder than we should have done. On a positive note, it's the kind of game we would have lost last season so it's great to see this Fortune team getting stuck in."


Match 9: v HENDON UNITED 'B' (H) WON 4-2
Played 9, won 8, drawn 0, lost 1, points 24
The First Team played HENDON UNITED's second string and completed a very good league double thanks to a 4-2 victory at Hatch End Playing Fields. Midfielder MICHAEL GOLDBERG scored an excellent hat-trick – his first for the Club – to take his tally in all matches to 11 so far during the season whilst leading goalscorer ROB BENSON netted one, his 28th in all matches to that point in the season. Fortune had to toil against a side they had hammered 8-1 earlier in the campaign, but as much as Hendon had improved, the First Team had the edge and were deserving winners.

Andy Souber commented: "Hendon were better than before and we certainly had to work hard to overcome them. But the lads grafted and got what they deserved – three vital points. Perhaps we made heavy weather of it yet these matches are never easy and cannot be taken for granted."



Match 10: v FC TEAM 'B' (H) WON 2-0
Played 10, won 9, drawn 0, lost 1, points 27
The First Team played struggling FC TEAM 'B' for the third time this season and managed to secure a tight 2-0 victory at Hatch End Playing Fields. With Norstar not in action, the win moved Temple Fortune to the top of the MSFL Second Division for the first time this season. Against improved opposition compared to earlier this season, the Firsts dominated the opening half but missed a hatful of chances. After the break, the performance dipped and Fortune were made to work very hard to claim the points. Midfielder JON FISHER and defender JONATHAN COHEN grabbed the crucial goals.

Said Lee Fegan, First Team Secretary: "We had chance after chance in the first half but couldn't find the back of the net. In the second half we didn't play so well and it was very hard going. But we got the points and now we can focus on the next game."




Match 11: v BRIXTON OLD BOYS (H) LOST 2-3
Played 11, won 9, drawn 0, lost 2, points 27
The First Team lost narrowly to Brixton Old Boys by 3-2 at Hatch End Playing Fields, their first defeat there this season. The victory moved Brixton to within one point of top-placed Fortune and ended a six-match winning streak in the League. Twice the First Team trailed during a hard-fought encounter played in heavy conditions but fought back to parity thanks to goals by JON FISHER and a SCOTT SHINDLER penalty. However, the visitors grabbed the crucial winner to capture the points. The match was blighted by Fortune having a seemingly good goal controversially ruled out near the end, when Brixton manager John Nitka flagged for a mystery offside.

Manager Andy Souber said: "I am extremely disappointed because this was a match we should have won. We missed some chances and gave away a really bad goal. But we are still in a better position than them so it is very much in our hands. We will just have to wait and see how the team responds to this set-back."




Match 12: v FAITHFOLD 'B' (H) WON 4-3
Played 12, won 10, drawn 0, lost 2, points 30
The First Team managed to overcome a strong Faithfold side to win 4-3 at Hatch End Playing Fields. Their hard-fought victory brought about the Club's first promotion to the MSFL Division 1 since 1985/86 – twenty five years ago – when Temple Fortune last won the MSFL Division 2 title. Beating Faithfold means that, with two fixtures remaining, the Firsts can finish no lower than runners-up. The visitors had much the better of the first half, outplaying Fortune who were very sloppy defending as a team. But two massive errors by the Faithfold goalkeeper enabled the Firsts to stay in contention and by a miracle Fortune led 3-2 at the interval. In the second half, the Firsts were vastly improved, missing many chances, but managed to take the points at the death. SCOTT SHINDLER, looking set to break all goalscoring records as a defender at the Club, netted another two goals, one a penalty. DANIEL WOOLFE and ROB BENSON added the other two.

Said a relieved Andy Souber: "The promotion is terrific news for the Club. I'm delighted for Lee, myself and all the players who have worked so hard all season for this. But we make it so hard for ourselves! Mission one accomplished, mission two is that championship! The first objective was always gaining promotion and I'm delighted we have achieved that."

Lee Fegan added: "I'm ecstatic for the Club. This has been three years in the making for Andy and I. I'm full of praise for everyone associated with the First Team. But the job is not fully completed until we win the division."


Match 13: v WOODFORD WANDERERS (A) LOST 1-2
Played 13, won 10, drawn 0, lost 3, points 30
Needing a victory to win the Club's first championship since 1986, the Firsts played Woodford in a hard-fought and closely contested game. Fortune looked out of sorts as an attacking side and Rob Benson's sole saved shot late in the half was virtually the away side's only decent opportunity. Goalless at half-time, the game continued into the second period with little happening in either goalmouth until an unfortunate handball by skipper Scott Shindler midway through the half gifted Woodford a soft penalty. This they duly converted and suddenly the game started opening up more. After Adam Glekin had made a couple of saves, Fortune equalised when MICHAEL GOLDBERG headed home a corner and suddenly the visitors looked to be in the ascendancy. A few minutes later, Dan Natoff's strong header towards the gaping Woodford net was knocked high over the bar by the on-rushing Ben Isaacs from only a few yards out. The Woodford 'keeper kept out another Isaacs effort near the edge of his area, whilst Glekin pulled off a great save at the other end as the home side pressed for a winner. And then, with seven minutes remaining, the decisive moment arrived when the home number 8 broke free and fired home past the despairing Glekin. Fortune mustered little in the closing minutes, whilst Glekin kept the Yellows in contention with another excellent save. Overall, a disappointing performance in a very tight match which Woodford just about shaded. MSFL Chairman David Wolff watched the fixture and enjoyed what he saw as a very competitive match which was played without the nastiness of the first encounter at Hatch End.

Andy Souber was very disappointed to lose, saying: "We weren't really at the races today but I don't think Woodford created that much. We are still in the driving seat and have another chance. I'm sure Brixton would love to be in our position."


Match 14: v FAITHFOLD 'B' (A) WON 3-0
Played 14, won 11, drawn 0, lost 3, points 33
The First Team, making several changes due to the absence of Jonathan Cohen, Jon Fisher and Paul Walker from the previous week, defeated FAITHFOLD 'B' by 3-0 at The Hive in a tense match. In came Gideon Wetrin at centre-back, who had an excellent game, and David Gance returned to the side, as did Dan Nissan (as a sub) after a lengthy injury. MICHAEL GOLDBERG helped to lift the tension somewhat by opening the scoring from a free-kick in the first half. BEN ISAACS added a second and scored an excellent third with 20 minutes or so to go to secure the championship. At the final whistle, the team celebrated jubilantly as news of Brixton's 3-1 defeat filtered through via MSFL Chairman David Wolff, who offered his own congratulations to the Club. With Fortune winning, the Brixton result mattered little but it was nice to win the title by four points all the same – the same margin that the 1985/86 team managed! You can see some pictures taken from the match against Faithfold and afterwards here.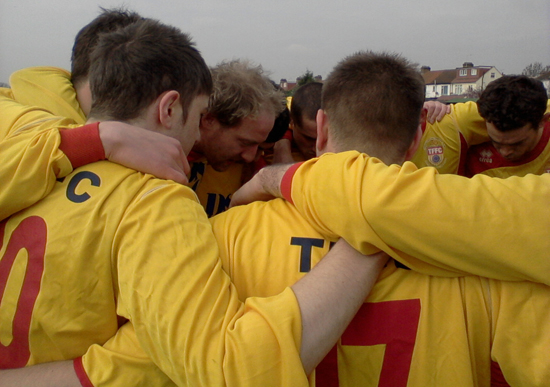 For Chairman Nigel Kyte, and anyone else connected with the Club who was around 25 years ago, the euphoria of this season's championship win is all the more magnified by what happened during the 1985/86 season. "It's been a long, long time coming. We tasted success and wanted more but these things can be hard to find! Yet this Club has persevered and years and years of effort have paid dividends again," he enthused. "To say I am delighted and proud is an understatement. I am particularly pleased for Andy and Lee, whose hard work this season has simply been wonderful. Without such organisation, right through the Club as well, the template for this success would not have been in place. Muzzeltov to everyone involved!"

Said a relieved Andy Souber, First Team manager: "I am delighted with the win and the clean sheet but most importantly we have won the division! To finish above Brixton, Norstar and Woodford shows we've had a great season and all credit must go to the players. They've been brilliant and this success is fully merited."

Lee Fegan, First team Secretary, commented: "We had a job to do which the lads took care of! The first goal settled our nerves which allowed us to take advantage of the game. I'm extremely happy to be going up as champions. Everyone wrote us off at the start of the season but I knew what we had to offer. A big thanks to Rob Shooman for getting the game on and for his sincere congratulations afterwards."

Captain Scott Shindler, who enjoyed a lot of success in recent seasons with NWN, said: "It's been a real team effort and we battled for it. Sometimes we weren't at our best but we backed each other and came through as a team. From a personal point of view, being part of the Club's first championship for 25 years is a big achievement. I'm absolutely delighted for Soubs and everyone involved!" Midfielder Michael Goldberg, who scored the first crucial goal, said: "We knew we had to win and we did it! To get promoted and win the league was always our aim and we've done it. Now we need to focus on doing the same in Division One next season."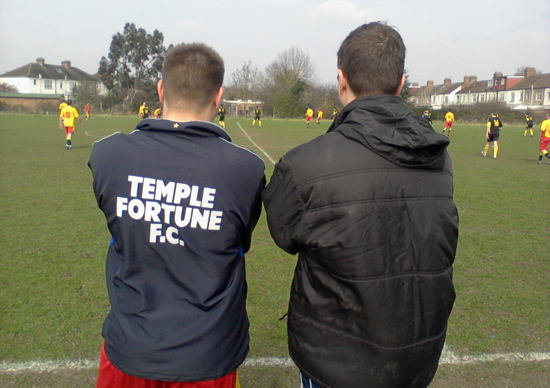 TFFC FIRST TEAM'S LEAGUE RESULTS


| | | |
| --- | --- | --- |
| DIVISION TWO OPPOSITION, 2010/11 | HOME RESULTS | AWAY RESULTS |
| BRIXTON OLD BOYS | LOST 2 – 3 | WON 4 – 3 |
| FAITHFOLD (2nds) | WON 4 – 3 | WON 3 – 0 |
| FC TEAM (2nds) | WON 2 – 0 | WON 6 – 2 |
| HENDON UNITED (2nds) | WON 4 – 2 | WON 8 – 1 |
| L'EQUIPE | WON 4 – 1 | WON 9 – 4 |
| NORSTAR | WON 3 – 1 | LOST 1 – 3 |
| WOODFORD WANDERERS | WON 3 – 2 | LOST 1 – 2 |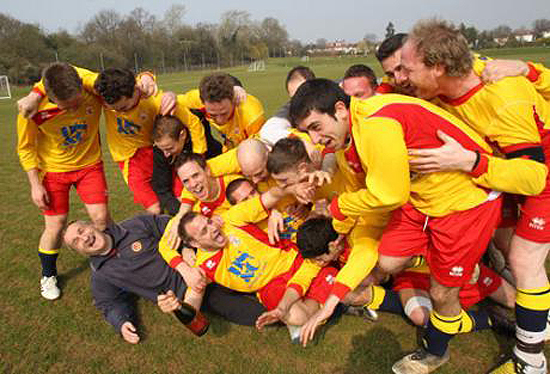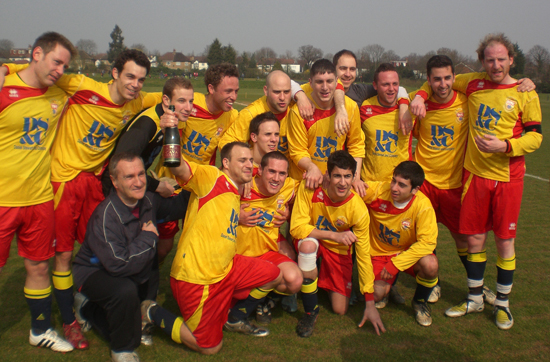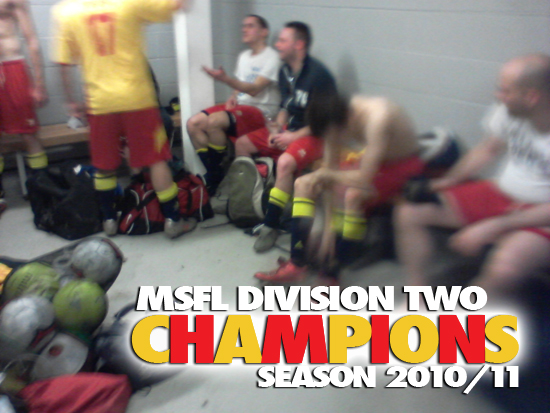 THE GLORY YEARS:
Temple Fortune's Peter Morrison Trophy run to the Final in 1981/82
THE GLORY YEARS:
Fortune's run to the MSFL Barry Goldstein Minor Cup Final, 2004/05