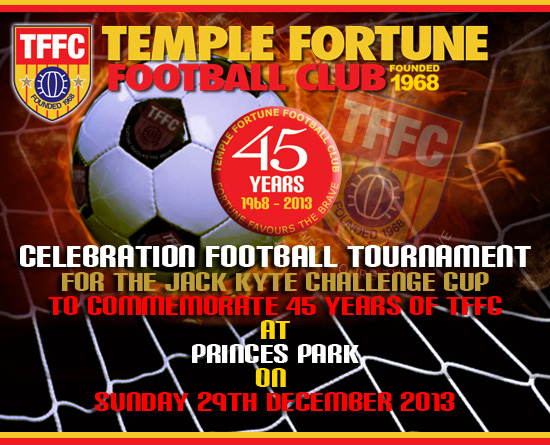 On Sunday 29th December 2013, the Club celebrated its forty-fifth anniversary by returning to the place where it all started – Princes Park in Temple Fortune NW11 – five years after the previous visit there.


Sunday 28th December 2008, exactly 40 years to the day that the Club was formed, was the last time the Club held a commemorative tournament at Princes Park. The Club first held a special invitation four-a-side game at Princes Park in 1993 as part of TFFC's Silver Anniversary celebrations. Played on the very same pitch which hosted so many kickabouts in the earliest days, it was a sentimental occasion particularly for Nigel and Peter Kyte to be back playing on that famous sloping patch! The participants, mainly Honorary Members who had given long service to the Club, all wore old TF kits and received framed captioned photographs to mark the occasion. The Club commemorated 35 years of existance in December 2003 by staging a second invitation small-sided game at Princes Park.
So the 2013 visit back to the Park gave Club Members past and present another chance to play on the hallowed sloping patch with trees dotted around, as bizarre a setting for football games as can be imagined, just as the Club's earliest players did all those years ago. On a sunny but chilly morning, four teams took part in the four-a-side tournament for the
Jack Kyte Challenge Cup
, similar to the event held five years previously. Chairman Nigel Kyte welcomed everyone present and read out the following introduction before going over the rules:
"This time five years ago we last visited this location where Temple Fortune Town FC – which was our original name or TFT as we were affectionally known – was virtually born. As I stated on 28th December 2008, there can be nothing more fitting to celebrate a milestone TFFC anniversary than to play football on the very pitch where the Club played its earliest football. So this morning's commemorative event here at Princes Park has enormous significance to the founders of TFFC, and to Stephen and Brian Melzack who also played here during their boyhood. But more than that, it offers other players – past and present – the opportunity to share in a sense of history.

Peter and I are delighted to welcome all of you to this important location which was so instrumental in the Club's formation. Here we kicked about amongst the trees for a number of years before founding the Club. I would like to welcome in particular David Wolff, Chairman of the Maccabi GB (Southern) Football League, who witnessed Temple Fortune's very first league game in September 1976. David has been with us throughout our league journey which has spanned some 37 years now. Also welcome to the Melzack brothers who lived opposite the Kyte family home – the first house going up Oakfields Road outside where we sat on the famous Low Brick Wall to form the Club (if you know your TFFC history, of course!)

This Club has come a long way over the numerous decades since formation. The longest running members of the Maccabi GB (Southern) Football League under the same club name and founder members of the Maccabi Masters Football League. We have provided Sunday football to just under 700 footballers and you could say that this has been a service to the Jewish community.

We have survived many trials and tribulations – and enjoyed limited success too – thanks to the dedicated commitment and hard work of many serving Committee members over the years; also the support of various kit sponsors has been invaluable, such as James Ryan of Ellis & Co who recently sponsored a new kit for the Old Boys team – many thanks, James. At stake for this fun tournament is the Jack Kyte Challenge Cup, a competition which has run since my Father's passing in 2003. Many a time he would walk around this Park with his wife Ruth and their boxer dogs. Jack's keeness for photography gave the Club a legacy which has played a big part in our history; his work can be seen throughout the website.

The trophy and medals will be presented after the Final. Thank you for being a part of the 45th anniversary of Temple Fortune Football Club and good luck to all participants. We sincerely hope you enjoy the occasion."
The leaf-covered pitch, far wider on one side, became very muddy in places following the recent heavy rain but it did not deter everyone from giving admirable effort up and down the notorious Princes Park slope! The six group games brought 36 goals with the Second team topping the table thanks to three wins. In second place were the Old Boys team who thrashed the First team 5–0. The unlucky Founders' team, despite running their opponents very close in their first two fixtures, fell apart in their final game to finish bottom, repeating their fate of five years previously. Surprising was the failure of the Firsts to make the Final, not helped by Danny Caro being unable to play.
In the Final, the
Old Boys team
, consisting of Jonathan Dubiner, Andy Montlake, James Ryan and Hilton Teper, defeated the
Second team
by a comfortable score of 8–3, amply avenging the 3–0 defeat to the same opposition in the group game played earlier. There were 47 goals scored in total, just three short of the 2008 tally! Jonathan Dubiner, Rob Jay and Andy Montlake shared the top scorers' mantle with 8 goals apiece, whilst Hilton Teper was an unlikely goalkeeping star with some excellent saves. Tony Espinoza too defended superbly, making several last-ditch sliding tackles. Save of the match came virtue of Andy Montlake's chest when he kept out an absolute rocket – and he didn't flinch a muscle in doing so! The Club's all-time leading goalscorer, Steve Feiger, bemoaned his bad luck(and the referee's eyesight) as he had two goals disallowed, hit the post twice and also missed a penalty!
After the Final had been concluded and hand-shakes exchanged, David Wolff handed out the engraved medals to all the participants, followed by presenting the Jack Kyte Challenge Cup to Andy Montlake, the victorious Old Boys 'skipper'. Mike Shorvon and David were given commemorative medals too as everyone went home with an award as a memento of the special occasion! Afterwards, a group of participants including David drove to the Three Hammers in Mill Hill where they enjoyed some drink and nosh with the compliments of the Club.
"It was great to be back at the very place TFFC was born. Seeing football being played amongst the trees again was like winding back the clock... my brother and I and the Melzacks played hundreds of games here in our teens," commented Nigel Kyte, who organised the event. "I was delighted that, just like the 2008 tournament, we were blessed with weather as good as it could have been at this time of the year. And also that everyone enjoyed themselves, which is what the event was all about." He added: "Once again this has been an extremely appropriate way to celebrate our 45th birthday and my thanks go to everyone who took part."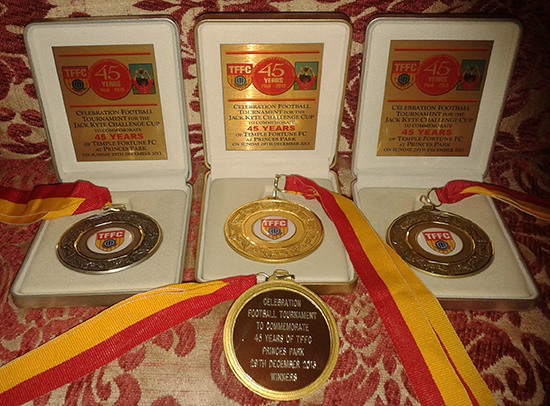 Above: The special commemorative medals presented to all participants; from left to right, silver (runners-up), gold (winners) and bronze (remaining participants).

TEAMS
Old Boys team (yellow bibs) – winners
Jonathan Dubiner, Andy Montlake, James Ryan, Hilton Teper
Second team (orange bibs) – runners-up
Tony Espinoza, Jeremy Fess, Rob Jay, Gideon Wetrin
First team (amber bibs) – third
Jonathan Cohen, Lee Fegan, Andy Souber, Mike Shorvon
Founders' team (blue bibs) – fourth
Steve Feiger, Peter Kyte, Brian Melzack, Stephen Melzack



RESULTS
GROUP GAMES (all 10 minutes)
First team 4 (L.Fegan 2, J.Cohen, A.Souber); Founders' team 2 (S.Feiger, S.Melzack)
Second team 3 (R.Jay 2, J.Fess); Old Boys team 0
Second' team 4 (G.Wetrin 2, J.Fess, R.Jay); Founders' team 2 (S.Feiger 2)
Old Boys team 5 (J.Dubiner 2, J.Ryan 2, A.Montlake); First team 0
Second team 6 (R.Jay 3, J.Fess 2, G.Wetrin); First team 2 (L.Fegan, A.Souber)
Old Boys team 8 (A.Montlake 5, J.Dubiner 2, J.Ryan 1); Founders' team 0

FINAL (8 minutes each way)
Old Boys team 8 (J.Dubiner 4, A.Montlake 2, J.Ryan 2); Second team 3 (R.Jay 2, J.Fess)


"Thanks for the invitation. It was a real pleasure to see everyone." David Wolff

"Hi Nigel. I just wanted to say how much I enjoyed the occasion today. Meeting old and relatively new friends. The football. And topping it off with the recollections of times gone by with old footballing friends. Lovely meeting you too again. It's been too long. Thanks." Tony Espinoza

"Just to say thanks, Nigel, for arranging this morning's games. From a nostalgic standpoint it was so nice playing football back where Nigel, Peter, my brother Stephen and of course myself played in our youth. From a TFFC point it's nice to see the club still running and also nice to see those who were involved in the past as well as today. See you in another five years!" Brian Melzack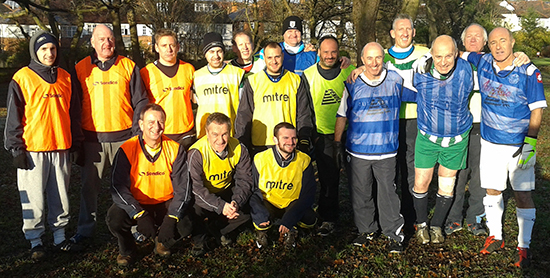 Prematch sunny smiles: From left to right, standing – Rob Jay, Tony Espinoza, Gideon Wetrin, Andy Souber, Jonathan Dubiner, Lee Fegan, Steve Feiger, Andy Montlake, Stephen Melzack, James Ryan, Peter Kyte, Hilton Teper and Brian Melzack. At the front: Jeremy Fess, Mike Shorvon and Jonathan Cohen.

Below: A series of action shots as the sun shines brightly on the 'lower' pitch at Princes Park.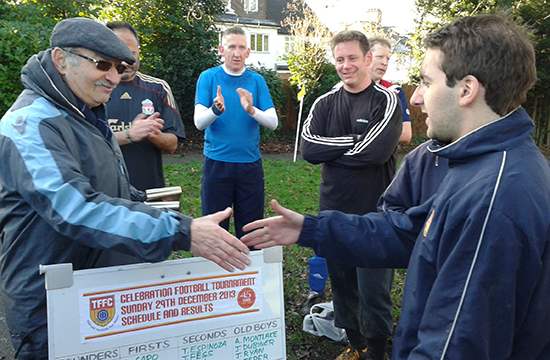 Above: MGB(S)FL Chairman David Wolff about to present Rob Jay with his runners-up medal. Below: With the medals all handed out, it's time for the Cup to be given and Andy Montlake is poised to receive it.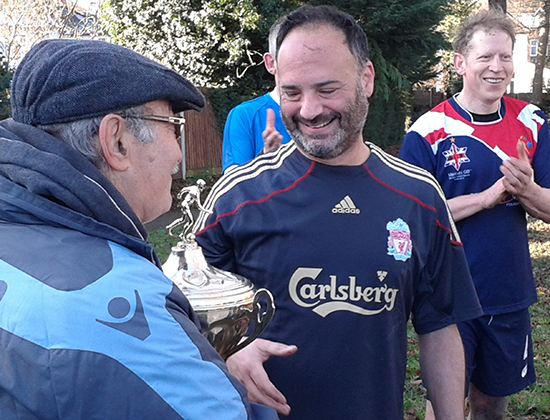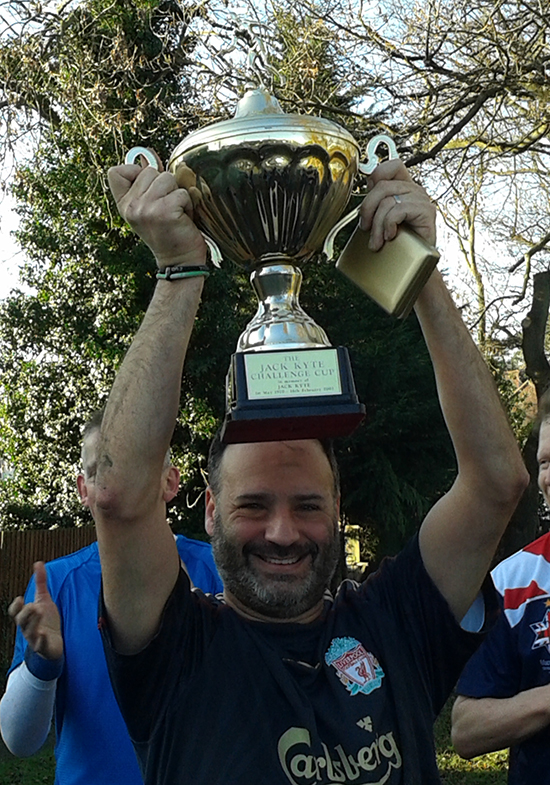 Above: Andy Montlake lifts the Jack Kyte Challenge Cup as the Old Boys become the 2013 winners. Below, from left to right: Hilton Teper, James Ryan, Andy Montlake and Jonathan Dubiner enjoy winning their winning moment at Princes Park.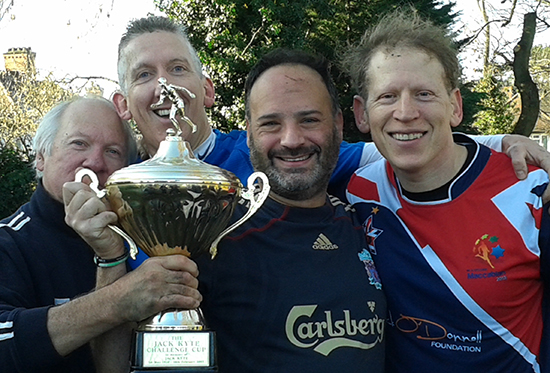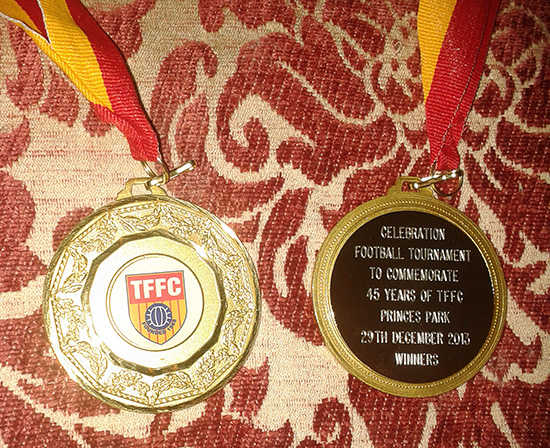 Above: A closer view of the gold medals presented to the winning players, complete with yellow and red ribbons.

THE 40TH ANNIVERSARY CELEBRATION FOOTBALL TOURNAMENT IN 2008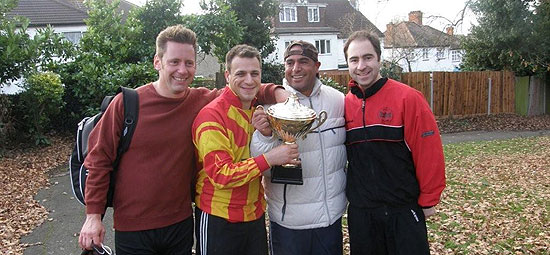 The victorious Old Boys 'A' team that won the 40th Anniversary Celebration Football Tournament played on 28th December 2008 at Princes Park. From left to right, Gideon Wetrin, Lee Fegan, Yali Mamouri and Andy Souber.